A bike trainer is a device unto which a bike is mounted, and it typically consists of a frame, clamp, roller, and mechanism. The clamp securely holds the bike, a roller presses up against the bike's back wheel, and the mechanism provides resistance for training. A magnetic bike trainer, commonly referred to as a mag trainer, is a type of trainer that uses adjustable magnetic resistance. The resistance created a drag against the bike's wheel, giving you a highly-controlled indoor training experience. 
Magnetic bike trainers use a flywheel as their drive mechanism. The flywheel can be engaged or disengaged using the rotating magnets to create a set amount of resistance. There are different brands of magnetic trainers existing in the market today, and they have diverse abilities, as portrayed in the comparison table below:
Image
Product
Features
Price
Alpcour Bike Trainer Stand for Indoor Riding

Resistance Mechanism: Magnetic
Frame Material: Stainless steel
Weight: 20.45 lbs.

Check Price
Unisky Bike Trainer Magnetic Stationary Stand

Resistance Mechanism: Magnetic
Frame Material: Premium steel
Weight: 15.4 lbs.

Check Price
ECHANFIT Magnetic Bike Stationary Exercise Bikes

Resistance Mechanism: Magnetic
Frame Material: Alloy steel
Weight: 100 lbs.

Check Price
Magnetic Cycling Trainer Stationary Exercise Bike

Resistance Mechanism: Magnetic
Weight: 104 lbs.

Check Price
Smooth Magnetic Resistance Bicycle Trainer

Resistance Mechanism: Magnetic
Frame Material: Metallic-fiber
Weight: 18.61 lbs.

Check Price
Do you want to learn the factors to consider when buying a magnetic bike trainer, and what to know about specific brands and their pros and cons? Here they go:
Best Magnetic Bike Trainer list
Main features
Portable indoor trainer with a magnetic flywheel
Stainless steel frame material
Six resistance settings
Bike type: road bike, mountain bike
Magnetic resistance mechanism
Smooth spinning action
The Alpcour bike trainer's manufacturers use a super quiet magnetic technology to make it. The flywheel mechanism of this trainer is high-quality and has a built-in noise reduction ability. The noise reduction features prevent whir while riding on the bike, which has a drag from the flywheel mechanism to give you a real cycling experience. The magnetic technology also reduces friction, ensuring your trainer serves you longer.
The bike trainer has a broader frame that you can fold for convenience while traveling. The portable stand of the Alpcour is hard-wearing but compact and lightweight, so you can easily fold, pack, and carry it wherever you go. Even more convenient is a free sturdy bad that comes with the kit where you can effortlessly store and move your items.
What About the Safety?
Alpcour has a safe and steady construction, as the stand consists of durable and heavy-duty stainless steel. The frame also has a front-wheel riser block and anti-slip rubber pads that prevent movement. The build of this trainer is compatible with 700cc wheels measuring between 26 to 28 inches wide. You can also attach it quickly to the bike without any tools, as it connects within seconds and releases via a quick lever.
With the Alpcour, you experience six fixed resistance levels, and you can choose to incline from flat to steep on the handlebar-mounted cable controller. The cable controller also stimulates various intervals, hills, and roads for you to enjoy a fun and challenging riding experience. You also experience perfect balance at any level, made possible with the help of the low stance and extra-wide base.
The Alpcour bike trainer stands for indoor riding and can convert any road or mountain bike into a stationary indoor bike.
Pros
This bike trainer is very sturdy.
It is easy to adjust the wheel gizmo for resistance and stability.
The trainer provides a perfect match between gear shifting and resistance level settings.
It is simple to set up and runs smoothly, and relatively quieter compared to other brands.
It comes with a storage bag to fold, pack, and carry along with you while traveling.
Cons
It can be loud when attached to a mountain bike
It can cause faster wear on a bike's tires
Verdict
The Alpcour bike trainer stands for indoor riding is a fantastic piece of equipment easily compatible with mountain and road bikes. The trainer ensures you achieve your fitness goals even when indoors, and it is an excellent addition to your workout equipment.
---
Main features
Resistance type: magnetic resistance trainer
Bike trainer material: premium steel
Compatible with: road and mountain bikes
Maximum load capacity: 300 pounds
Compatible tires: 26-28 inch or 700 cc wheel
Item weight: 15.4 pounds
The Unisky bike trainer magnetic stationary stand has a unique lock button to help you quickly assemble and disassemble a bike. You can get to work out immediately after getting it delivered to your home, thanks to the instant setup and release with your bike. You also enjoy a noise reduction resistance while riding the bike, facilitated by the trainer's smooth and effortless design. If you live in an apartment or close quarters with roommates, this bike is ideal for a low noise exercise experience.
Another fantastic feature is the bike's sturdy structure, complete with anti-sleep rubber feet for added safety and stability. This trainer comes with a double lock button and a dual support structure consisting of a wide frame and a front-wheel riser. The double frame keeps the bike stable and reduces wobbling, making it steady while working out indoors.
The trainer's manufacturers also considered its convenience while traveling because they made it easy to fold and pack into your bag. You can carry it wherever you go, enabling you to achieve your fitness goals on the go. The Unisky bike trainer is a good quality piece of equipment sold at a reasonable price.
You can enjoy a smooth and stable indoor riding experience in any season and attain your fitness goals, all from the comfort of your home!
Pros
The bike trainer is steady and firm when using it.
You can fold, pack it into a bag and carry it wherever you go.
It easily fits most mountain and road bikes measuring 26 to 28 inches or a 700cc wheel. The fit makes it convenient for indoor use.
The trainer runs smoothly and has a low noise design, ideal for shared apartments or small spaces near neighbors.
It is quick and easy to install and use.
Cons
The trainer doesn't perfectly fit with a bike that has a quick-release rear tire
The Unisky bike could use some more robust resistance levels
The trainer can be a bit noisy for some individuals
Verdict
The Unisky bike trainer magnetic stationary stand is a great indoor bike trainer to sort out your exercise needs. It comes with great features that ensure a smooth, steady, and safe workout while using it, and it has reduced noise levels too. The relatively low noise levels associated with this trainer make it perfect for use in a shared apartment or in spaces where neighbors live close to each other. And, it is affordable too, as it retails at a reasonable price, keeping in mind its fantastic qualities.
---
Main features
Product material: alloy steel
Drive system: belt
Maximum weight recommendation: 350 pounds
Resistance mechanism: magnetic belt resistance
Tension control and brake stop
Personalized/customized seat
Thanks to its heavyweight frame, the ENCHANTFIT Magnetic stationary exercise bike is stable and safe to use. It has a 40-pound inertia-enhanced flywheel that gives users a natural feel while exercising on the bike. This bike is perfect for users ranging from height 5′ 3″ to 6′ 6″ and has a maximum weight recommendation of 350 pounds.
The bike is fully adjustable for home use, as you can re-adjust the seat in 4 different ways to suit your comfort needs. ENCHANTFIT also guarantees your comfort needs with a seat that has a soft and ergonomic cushion and a non-slip handlebar that you can adjust in four ways. You can also fine-tune the straps on the toe-cage pedals to effectively suit your feet' size.
With this bike, you also experience a smooth and quiet workout regime, enabled by its silent magnetic belt resistance mechanism. The mechanism has five silent magnets whose resistance levels you can adjust to achieve a wide range of exercise intensity options.
The ENCHANTFIT also ensures its users' safety, thanks to its magnetic resistance and an emergency stop brake if the flywheel moves too fast for your liking. The transportation wheels provide easy portability, so you don't have to strain to lift the heavy-duty piece of equipment from room to room.
To top it all, you can monitor the efficiency of your exercise regime while using this bike. The bike gives you real-time feedback on time, speed, distance, pulse, and calories. That way, you can track your fitness achievements and compare them to your goals.
Pros
It is safe to use.
You can monitor your fitness metrics while using the bike.
The bike runs smoothly and quietly.
The ENCHANTFIT is comfortable as you can adjust the seat and handlebars in 4 different ways.
Thanks to its convenient transportation wheels, you can easily move the bike from room to room.
Cons
The computer on the bike is pretty basic.
The bike doesn't have SPD pedals.
The flywheel is considerably light compared to what the bike's competitors offer.
Verdict
The ENCHANTFIT Magnetic stationary exercise bike is a safe and steady piece of equipment to use and achieve your fitness goals. It is a good bike for novice and intermediary-level trainees, but it is too basic for pro-level workout fanatics. Overall, it is an excellent bike to exercise while indoors.
---
Main features
Color: gray
Drive system: belt
Maximum weight recommendation: 275 pounds
Maximum height: 33.5 inches
Resistance mechanism: magnetic belt resistance
Item weight: 104 pounds
Also known as the EFITMENT, this bike features a magnetic resistance mechanism, giving it quiet and smooth running. You're able to adjust the resistance to your preferred level, and it also lessens the maintenance requirements for the bike. You can also ride comfortably on this bike thanks to its extraordinary features, including sizeable padded seating. Also, you don't have to get off the bike to hydrate because the bike has a convenient water bottle water holder. Safety for this bike's users is essential, with features like an emergency push-down brake that stops the flywheel if it is spinning too fast.
You can also adjust your seat effortlessly forward/backward or upwards/downwards to fit your height. This seating flexibility allows up to four different users to conveniently get a comfortable fit on the bike. Also, if you want to track your fitness progress, you can easily do so with the advanced digital monitor. The monitor monitors exercise metrics, including time, speed, distance, pulse, and calories burned. You can enjoy an extraordinary workout session on the bike, thanks to a 40-pound chromed flywheel whose resistance levels you can control. The EFITMENT has a device holder for your phone or iPad, where you can divert your attention from a grueling workout session while watching your favorite videos.
Pros
It is safe and comfortable to use.
You can adjust the resistance levels.
The bike runs smoothly and quietly.
Relatively maintenance-free compared to a bike with a felt pad resistance system.
Enables you to track your fitness metrics.
Easy to assemble.
Cons
The digital monitor is very basic.
The handlebars may have problems adjusting them due to design issues.
The pulse reader is prone to inaccuracies.
Verdict
The Magnetic Cycling Trainer Stationary Exercise Bike also referred to as the EFITMENT, is a good quality bike that offers excellent value to its users. It is quite a fantastic bike to achieve your indoor workout fitness goals. Also, you will not have to stress yourself about expensive maintenance routines, as a simple wipe to remove sweat on the bike is enough.
---
Main features
Product material: metallic-fiber
Product dimensions: 20 x 9 x 23 inches; 18.61 Pounds
Drive system: belt
Maximum weight recommendation: 350 pounds
Resistance mechanism: magnetic belt resistance
Color: red
RAD Cycle Products Max Racer has an ultra-quiet internal magnet that creates seven resistance levels, stimulating road conditions. The trainer is light and portable, as it can be folded and packed into a bag for easy storage and travel. Maximum stability on the bike comes from a sturdy frame and extra-wide legs, making it one of the most robust stationary exercise bikes in the market. The Max racer results from the finest materials and is durable and reliable, making it an ideal trainer that will serve you for a long time.
Pros
It is durable
It is versatile, as it can turn your bike into an indoor exercise bike.
The trainer is light and portable, as it can be folded and packed into a bag.
The trainer has good resistance levels.
Cons
The trainer tends to be quite loud
The resistance levels are pretty basic for pro-level riders
Verdict
RAD Cycle Products Max Racer is a good bike, famed for its sturdy frame and wide legs, making it one of the most stable stationary bikes in the market. It has quality features and retails at an affordable price of $64.87. The pros of this trainer far outweigh the cons, making it ideal for purchase to enjoy its notable features.
What Should I Look For When Buying a Magnetic Bike Trainer?
When buying a magnetic bike trainer, you have to consider various aspects, including price, durability, potential resistance, noise level, and compatibility with your bike, as detailed below:
Price
Price is one of the most important aspects to consider when buying a magnetic bike trainer. You need to purchase one whose price is within your budget, no matter how appealing other more expensive brands may be. When setting a budget for buying a magnetic trainer, remember to factor in quality. However, your workout routine results lean more towards a rigorous exercise regime than purchasing an expensive bike trainer and letting it stay idle in your home. Check out the Top 5 best bike trainers under $500.
Durability
As said above, remember to buy a quality magnetic bike trainer that suits your budget. Consider purchasing a durable bike trainer if you intend to maintain a robust workout routine involving riding long distances. "Cheap is expensive" is a popular phrase that would fit well in this scenario, as buying a cheap bike trainer with inferior quality will have you spend more money on endless repairs. Save yourself the trouble by purchasing an excellent magnetic bike trainer that will last you a lifetime and with minimal maintenance requirements.
Potential Resistance
Resistance is another factor to rope in when buying a magnetic bike trainer. This is the amount of power or wattage that a bike trainer generates before maxing out. Start small with an entry-level magnetic bike trainer if you are a biking novice. You can progress as time goes by; investing in a more advanced bike trainer with a more powerful meter is ideal. A more powerful meter will offer you extra precision in your output levels, suitable for engaging in more intense workout sessions.
Noise factor
Magnetic bike trainers are relatively cheaper than their other counterparts, like fluid trainers. However, they generate a lot more noise and wouldn't be ideal if you work out in a small apartment shared with roommates or a sleeping child. When purchasing a trainer, look at the decibel reading and compare one trainer to another. Choose the relatively quieter one, and remember that you will have to use it in a more secluded room where you wouldn't bother your neighbors with a noisy magnetic bike trainer.
Compatibility with your bike
Consider the model of your bike for you to purchase a suitable magnetic bike trainer that perfectly suits its fiber frame. Ensuring that the bike trainer you are buying is compatible with your bike at home is imperative. Ignoring this aspect would result in losing a considerable chunk of trying to get it to work or shopping for another one. You will mostly encounter compatibility issues if the frame design of your bike has extraordinary features, especially on the back-end frame and dropout area.
Also, consider your weight levels, for instance, if your weight is above average compared to a regular rider or if your bike leans on the more pricey side. Lastly, don't forget to check if your bike is compatible with the power meter on your magnetic bike trainer, predominantly if the parts date back to a little more than three years ago.
Conclusion
Before buying a magnetic bike trainer suited for your workout regime, there are various factors to consider. These include price, durability, price, noise factor, potential resistance, and compatibility with your bike. Luckily, different magnetic bike trainers in the market have various features, as listed above. Choose the best one that suits your specifications and budget.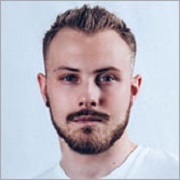 Taylor is an outdoors & sports equipment specialist, sports author, bike traveler, bicycling and skating expert, and smoke-free ride activist. He is also a regular reviewer of outdoor sports gadgets and accessories. About safety gear and biking facts he analyzes and gives his feedback to outdoorxsports. Writes and tests to help him, you, and us.