BMX stands for Bicycle Motorcross, a form of racing in which competitors race through winding paths with jumps and hills. BMX bikes are the most robust bikes on the market today. Though many people consider them suitable for children, adults can also ride them.
The bikes are designed for fun rides involving stunts and tricks. They are easily transportable because they are lightweight. In addition, BMX bikes are affordable and require less servicing.
Read on to find out more about BMX bikes.
Is BMX a good bike?
Of course, BMX bikes are among the best bikes on the market today. And for good reasons. BMX bikes are lightweight compared to other bikes. They have small frames made of chrome steel that reduce their weight by 50%.
The bikes are also solid and durable. When riding a BMX bike, it will take all the abuse, tricks, and stunts without showing any degradation. They can withstand harsh beatings and still function normally. Additionally, their wheels are different from those of ordinary bikes. Their wheels are smaller and have knobby tires, making them grip the ground well. They also feature strong rims that add to their durability. The rims are essential when riding on bumpy terrain that leads to weak rims' breakage. Another feature you'll love about BMX bikes is their pedaling efficiency, which is because they have few components and only one gear.
Is the BMX bike suitable for beginners?
People of all expert levels can use BMX bikes. They come in different sizes, ranging from 16″ to 26″. The 20-inch bike is typically suitable for children between six and ten years of age, while the 24″ and 26″ bikes are suitable for adults. Beginners can easily learn how to ride this bike because their feet can easily reach the ground.
You must Buy a Helmet as a Beginner: Best helmet for newbies.
BMX bikes are good for various reasons. First, they are the perfect bikes for stunts because of their design. If you want to show off your riding prowess with exciting tricks and stunts, a BMX bike is the best option for you. Secondly, these bikes are great for aesthetics. Finally, you can buy this bike if you want to present yourself as unique, calm, and stylish.
You can also buy a BMX bike for leisure, competitions, or exercising. It will help you get stronger and fitter. In addition, the bike can help you lose weight by burning calories. These bikes are not designed for uphill riding, long-distance riding, or commuting.
How should you choose your first BMX bike?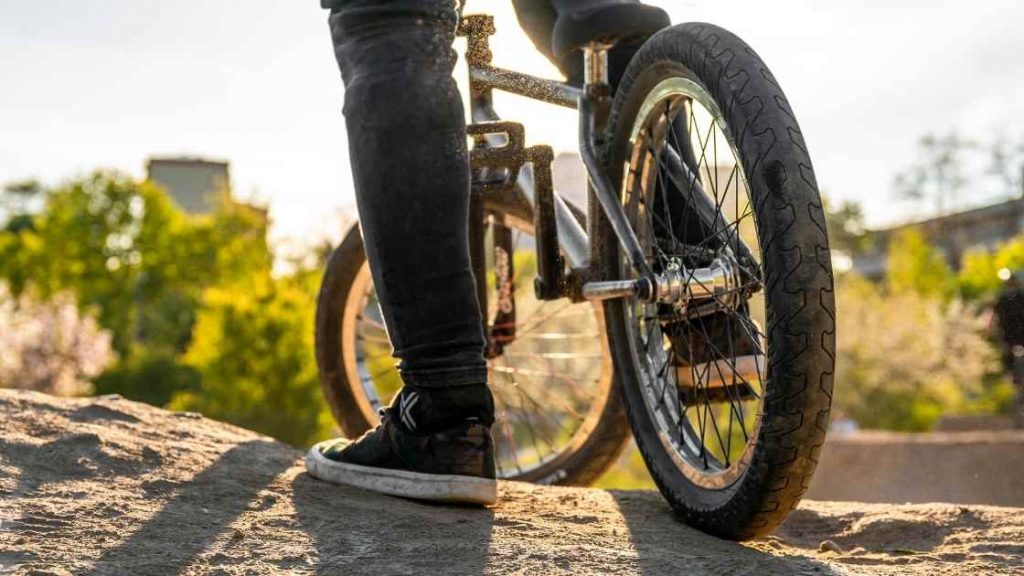 When buying a BMX bike, size is probably the most crucial factor to consider. It's important to choose the right bike size so you can feel comfortable riding. This is the same case when buying a bike for your kids. The sizes 20″, 22″, and 24″ are the most popular BMX bike sizes. The size of the bike you choose will determine how you ride, do tricks, and feel when cruising. Riding a very small bike will make you less stable, whereas riding a very big one is more difficult. BMX bikes are generally small to reduce their weight and make it easier to perform stunts.
You may not know it, but your body size impacts how you feel on a bike. To pick the right bike size, you must consider your height and body size. Below is a table of various age groups and the perfect bike sizes:
| | | |
| --- | --- | --- |
| Age | Height (cm) | Wheel Size (inches) |
| 1-4 | 70-90 | Balance |
| 4-6 | 80-110 | 12″ |
| 5-9 | 90-130 | 14″ |
| 7-14 | 100-140 | 16″ |
| 14+ | 130-160 | 18″ |
| 14+ | 155-180< | 20″ |
What is the best-selling BMX bike?
BMX bikes come in different brands and sizes. The best-selling bike is the 20″ bike because kids and adults can use it. However, the choice will depend on your taste and body size (height) for the best BMX bike to buy.
Today, many companies sell high-quality BMX bikes with different designs and colors. This makes it challenging to choose the best bike from the existing pool of bikes. But before choosing a bike, consider its welding and assembly quality, steering strength, fork strength, and frame strength. Also, consider the price policy, model assortments, customer reviews, and availability of spare parts.
The top 10 best BMX bikes on the market today include:
1. Diamondback
What we like about it: it's durable, low cost, and strong.
What we like about it: experience-oriented design, comfortable, and lightweight.
3. Elite
What we like about it: various color options, easy assembly, and excellent quality.
4. Mafia
What we like about it: Sturdy, modern design
5. Redline
What we like about it: it's best as a competitive bike and for leisure rides as well.
6. Eastern
What we like about it: it's a smooth ride, affordable, and best for beginners.
7. Razor
What we like about it: it's cost-effective and robust.
8. Kent
What we like about it: it's highly affordable, attractive, and stylish.
9. Brave Bicycles
What we like about it: it's lightweight and stylish.
10. Dynacraft
What we like about it: best warranty and pricing, rugged, and sturdy.
The best BMX brand to buy is the Diamondback brand. As already mentioned, it's affordable, durable, and sturdy. On top of that, it is a high-quality bike whose spare parts are readily available.
How much does it cost to build a BMX bike?
The cost of building a BMX bike varies because it depends on the brand, size, and parts used. Building your bike can be an exciting project because you can customize it to satisfy your needs. Building a bike may be a good option if you can't afford a new bike in cash. Surprisingly, building your own bike can cost more than buying a ready-made bike.
A decent bike can cost as little as $200, while high-end BMX bikes can cost as much as $1,300 or more. On the other hand, building your own bike can cost you as much as $1,000 to $3,000. The cost is high because you'll be buying parts separately. For example, the frame alone can cost you as much as $450.
The first step in building a BMX bike is to buy compatible parts. If the parts aren't compatible, they won't withstand the rough handling, high speeds, and stunts that BMX bikes usually face.
Once you have all the parts, you can either assemble the bike yourself or take the parts to a local bike technician. The first step is to assemble the seat, stem, and fork, followed by the wheels, chain, pedals, and cranks. Lastly, you can assemble the brakes, oil the bike, and you'll be good to go.
How to measure BMX handlebars?
Choosing the wrong size of a BMX handlebar leads to lots of discomforts when riding, whether you are tall or short. A wrong handlebar will also make it hard for you to control the bike, leading to accidents.
Read More: Best Mountain Bikes Under $1000
That's why you need to learn how to measure the rise and width of a BMX bike to choose the right handlebar for your safety and comfort. To measure a BMX handlebar, follow the steps below:
Turn the screw to loosen the handlebars. The screw is where the bike brakes clamp onto the handlebar. Once the screws are loose, push away the brakes, then insert the screwdriver between the handlebar tube and the flare grip section facing the brake you loosened. The screwdriver will create some space to spray penetrating oil. Remove the screwdriver, twist the grip, and pull it away from the handlebar's center. Next, remove the second grip using this same method.
Hook one end of your tape measure on the first grip. Pull the tape measure until you reach the opposite side. Measure the handlebars.
Remove the grips to align the handlebar ends with the top of a straightedge. The straightedge should align with each tube's end center. Hold on to the end of your tape measure at the bottom bar's center-the one that clamps to the bike's stem. Pull the tape measure over the straightedge and measure at the point where the tape measure crosses the straightedge's top. This measurement is the rise of your BMX's handlebars. If you find the handlebar too big, you can trim it. But you have to be careful because you can't bring the trimmed part back once you trim it.
How to make your BMX bike go faster?
The first step in ensuring your bike moves faster is choosing the right bike size. For example, the 26″ bikes tend to move faster than the 29″ bikes because they are lighter and have better acceleration. The 29ers, on the other hand, have the advantage of offering little rolling resistance. As a result, they can easily roll over and up obstacles and maintain traction and momentum.
Other steps you can take to make your bike go faster include:
Lubricating the bike
Maintaining the correct tire pressure
Cleaning the bike well
Keeping your gear under check
Conclusion
At least you now know what BMX bikes are all about and how you can pick the right size for your safety and comfort. We'd like to get feedback from you in the comment section. Thank yoU.

NEXT – Best beach cruiser bikes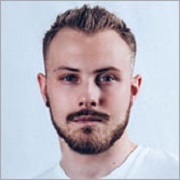 Taylor is an outdoors & sports equipment specialist, sports author, bike traveler, bicycling and skating expert, and smoke-free ride activist. He is also a regular reviewer of outdoor sports gadgets and accessories. About safety gear and biking facts he analyzes and gives his feedback to outdoorxsports. Writes and tests to help him, you, and us.