As a cyclist, you want to choose the best bike pump that fits your needs. There are several different types of bicycle pumps available for purchase. If you're not sure what type is right for you, then check out this guide that breaks down all the features and benefits of each style of bike pump!
Things to consider before choosing the best bike pump
There are several different types of bicycle pumps available on the market. Before choosing which type is best for you, think about what features are most important to your riding needs. If you need a pump to take on long rides, then you'll want something lightweight with a folding handle to save space in your saddlebag or backpack.
Gauge
If you're pumping up tires that are already at their recommended pressure, then having a gauge on your pump will be beneficial. Having an accurate pressure reading can be important if you're trying to inflate really thick mountain bike tires that could use more than the recommended PSI. It's always best to keep the recommended PSI settings in mind and use a pump that has a pressure gauge.
Nozzle design
Schrader valves are the standard on most bicycle tires, but Presta valves are used by high-performance road bikes. Make sure your bike pump matches the valve type of your bike's tires. Otherwise, you'll need an adapter to attach it (which I don't recommend because it'll be extra weight and take more time to get the job done).
Size/Portability
A lightweight pump with a folding handle is probably the best choice if you're going on long rides. More than likely, you'll be carrying this around in your saddlebag or backpack, so size and weight can be important factors to consider.
Affordability
Depending on your budget, you should find a bike pump that fits within it while still providing all the features and benefits you need for your cycling needs. You don't necessarily have to buy the most expensive or cheapest product out there – just make sure you get the best value for what you pay so you can enjoy your ride.
Pump materials
Most bike pumps are made out of sturdy plastic or aluminum, but some high-end models use carbon fiber. This material is lightweight and helps enhance the performance of the pump. Other than that, there aren't any major differences in materials used with different types of bicycle pumps.
Air pressure of the pump
Most bike pumps can reach up to 160 psi, which is more than enough to fill your tires. Even if you have really thick mountain bike tires that require higher pressures, most bikes and pumps will handle that just fine. Just make sure the bicycle pump you choose matches the required pressure of your tires, so it doesn't under-fill or over-fill your tires.
Conclusion
The type of bicycle pump you choose should match your specific cycling needs. So make sure to take all these factors into account before choosing which one is best for you!
As you can see, there are a few key factors to consider when choosing a bike pump. Make sure you pick out the best one for your cycling needs, so you have a fun and safe ride!
Click here to find out more about the best bike accessories.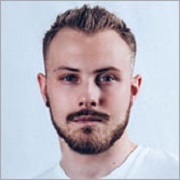 Taylor is an outdoors & sports equipment specialist, sports author, bike traveler, bicycling and skating expert, and smoke-free ride activist. He is also a regular reviewer of outdoor sports gadgets and accessories. About safety gear and biking facts he analyzes and gives his feedback to outdoorxsports. Writes and tests to help him, you, and us.