Feel like the city has become too small for you and your bicycle? If so, you're probably eager to hit some far off exotic trails. However, that means you have to turn to the bicycle's number one enemy – the car. We often hear that people should ditch the fuel-hungry machines for the eco-friendly two-wheeler alternative, but these two aren't mutually exclusive. If you want to explore, discover and wander somewhere far, far away then, a vehicle is a necessary evil. But can a basic car setup take your bicycle from point A to point B?
If you have nothing against disassembling or wrestling your bike into the trunk or backseat and you're okay with interior chain stains, abrasions, nicks and scratches, then yes. Otherwise, you need to kit out your vehicle for the job. As a cyclist, you're surely well familiar with the essential accessories needed for a comfortable ride. However, there's one highly practical piece of gear that rarely makes the top list and you might not hear about it ever so often.
Bicycle carriers. These specially designed vehicle mounts allow you to safely haul your bike to your chosen destination. Beware though, don't be quick to buy the first bike carrier you see since there are a lot of poor quality products whose value doesn't match the cost. As a matter of fact, a poor quality bike rack may even damage your bike, and vehicle too. To play it safe, you first need to turn to a reputable brand and then choose the right rack for your needs.
The Brand that Sets the Benchmark for Bicycle Racks
Have you ever come across the name Yakima? This brand is synonymous with high-quality bike racks. Back in 1979, hardcore kayakers and cyclists, Steve Cole and Don Banducci acquired the company and began to transform the way people travel. Rising from a small machine shop to the world's leading bike rack brand over the course of four decades, Yakima gives everyone the right to be unruly and the freedom to explore.
Each bike rack is manufactured from premium quality materials and is rigorously tested in the field for your safety, convenience and peace of mind. Whether it's a hassle-free Yakima bike carrier hitch mount, a versatile roof rack or a portable trunk rack, you'll easily find the right fit for your vehicle, needs and budget. But what's the difference between these Yakima racks? Which type of bike carrier is the best? If you want to make an informed choice and get the ultimate bang for your buck, you need to know the pros and cons of each and every bike rack style. So, without further ado let's get straight to it.
Save Hours of Hassle with Hitch-Mount Racks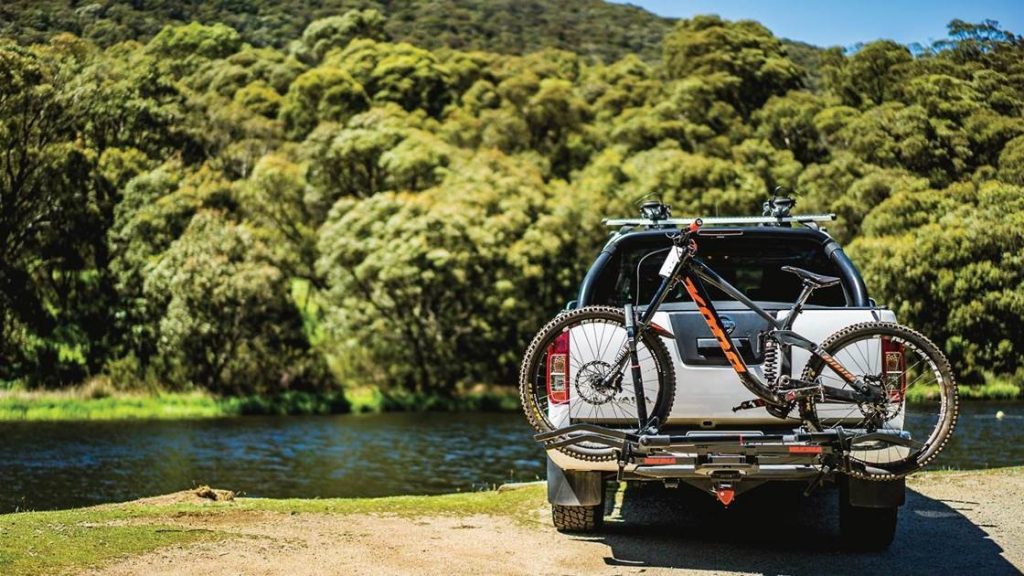 If you want a quick and easy to install bike hauling solution and you don't want to lift multiple bikes every time you and your crew are up for an impromptu adventure, you should have a look at Yakima bike carrier hitch mounts. Yakima's hitch-mount racks are lightweight yet incredibly sturdy, typically designed to safely haul two or more bikes. They're available in hanging and platform style, so you can choose what best suits your vehicle.
Although some people avoid hanging hitch racks because they fail to hold bikes securely in place, Yakima overcomes this issue by incorporating more spacing, anti-sway cradles and pads for a secure fit. However, if you're the kind of person that has a specially designated bike storage space and goes to great lengths to keep bikes in pristine condition, a platform-style rack may be a better choice. However, those who don't want to risk even the slightest of paint chips should be prepared to pay a few hundred bucks more since platform-style hitch-mounts are on the pricier side.
Yakima solves another common issue with hitch-mount racks i.e restricted trunk access. By incorporating convenient tilt systems in some of their designs, Yakima allows the user easy access to luggage space in the rear of the car. One of Yakima's hitch-mount all-rounders, the JustClick3, features this practical mechanism. Speaking of the JustClick3, it's worth mentioning that this bike carrier is a technical marvel for all cyclists. Standard-compliant, easy to install and adaptable, this rack is worth every penny.
Enjoy Multi-Sport Versatility with Roof-Mount Racks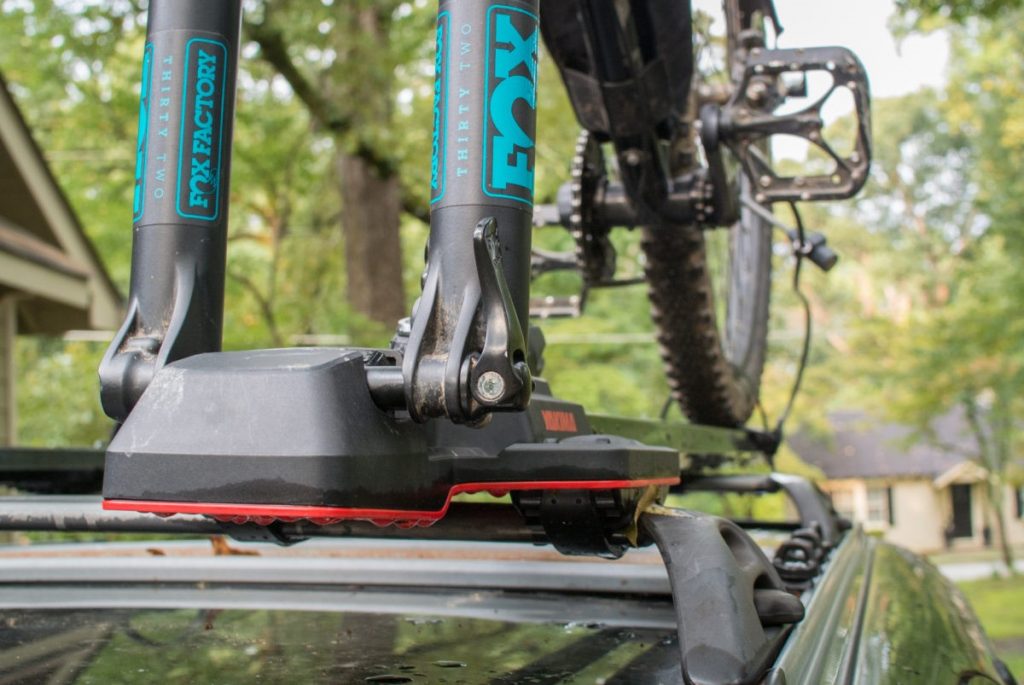 If you're a wild soul living on the trails, beach and snowy slopes, you might want to consider getting a Yakima roof rack. Not only that roof racks allow you to haul other equipment such as skis, small boats cargo boxes etc, but they also provide you unrestricted access to your car's interior and trunk space. Roof racks hold bikes securely in place with minimum or no sway at all. However, they also have downsides; they require lifting, reaching and may negatively affect your vehicle's gas mileage due to aerodynamic drag.
Although we're yet to see how Yakima overcomes the lifting and reaching problem, as far as air drag and wind noise are concerned, you can consider these issues solved. With low-profile yet high-strength design solutions which minimize drag and reduce noise levels to nearly zero, you can enjoy a fuel-efficient and silent ride even when you're not using the rack, without the need to remove it from your vehicle. If you want the premium experience, look no further than the Thrubar Aerodynamic roof system which seamlessly attaches to your vehicle and provides a secure fit with an added anti-theft lock.
Easily Switch Between Vehicles with Trunk-Mount Racks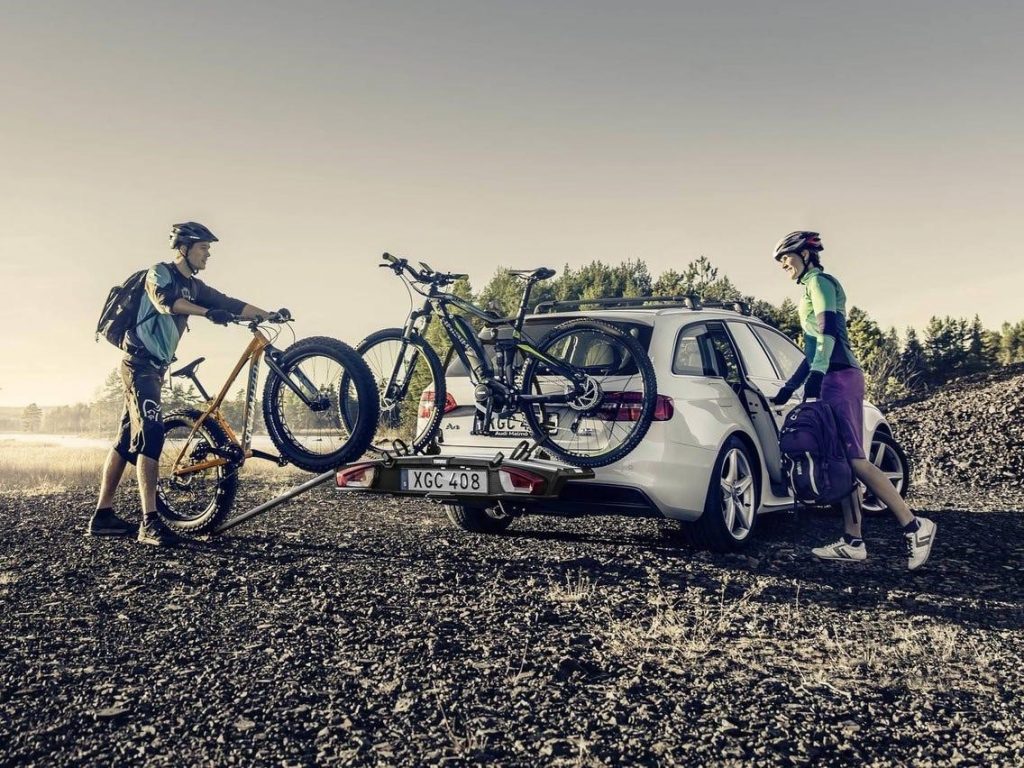 The lightweight and highly portable trunk-mount racks are an excellent choice if you're planning on hauling your bike often or regularly switching between vehicles. Trunk-mount racks are a secure and easy way to hold one or two bikes in place. If you're willing to forego unrestricted trunk access, you can opt for this bicycle carrier. These styles are typically less expensive, so those looking for great bang for buck should keep them on top of their minds.
Yakima has an extensive line of trunk-mount bicycle carriers. If you need a neat and compact solution that won't take much garage space, you should check out the Half Back 2-Bike carrier. This model makes installation a breeze and loading and unloading a piece of cake. As far as bike safety is concerned, you can rest assured that your precious two-wheeler will enjoy a smooth ride thanks to the cleverly designed cradles.
Be Done with Installation in a Jiffy with Spare Tire-Mount Racks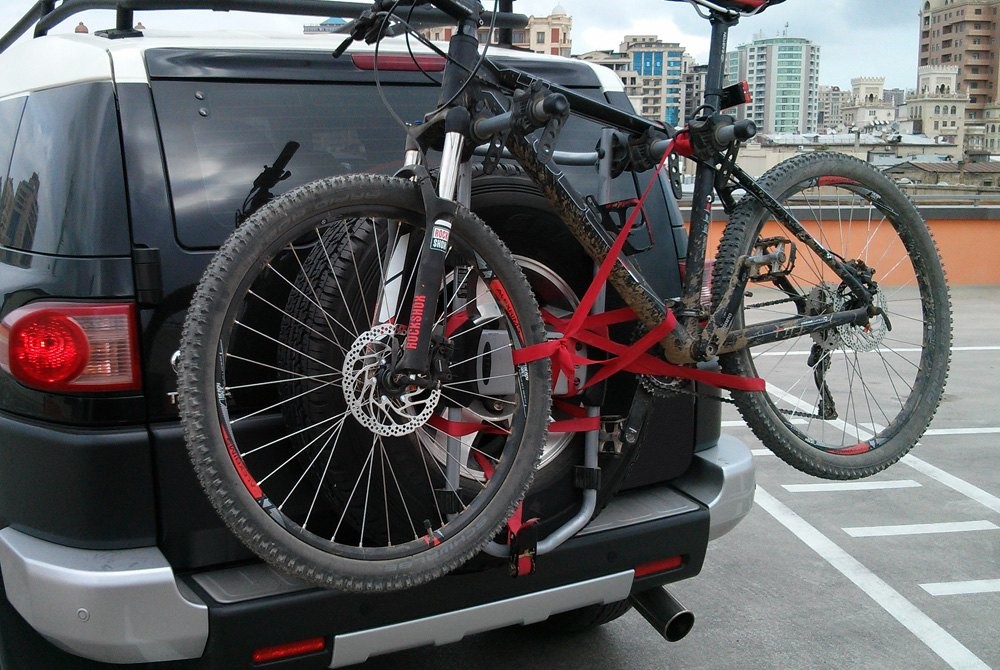 Quick and easy to install with minimum loading/unloading fuss and wallet drain, the spare-tire racks can be a great choice for any ute or off-road vehicle. If you're willing to trade a spare tire for a spare ride and you aren't planning on hauling more than two bikes, you can opt for this type of bicycle carrier. The only problem with spare tire racks is that they can carry a maximum of two bikes and they add to the length of your vehicle when loaded. If you take pride in your backing up and parking skills, this won't be an issue for you.
One of the best spare tire racks that money can buy is Yakima's top-selling SpareRide. This carrier can securely hold two bicycles and you won't have to worry about bike-to-bike contact thanks to the innovative anti-sway design. The SpareRide also features the signature bottle opener so you can treat yourself to a post-ride cold one.
Closing Thoughts
Even though there are other things to consider when choosing a bicycle rack, this simple categorization will narrow down your choices and make your hunt for the perfect one much easier. Remember, not having the right hauling gear can quickly turn your long-planned adventure into a nightmare. Don't risk such a scenario and kit out your vehicle with a Yakima bicycle carrier to safely transport your bike. Make sure to check out Yakima's full offer online or in-store at an authorized dealer.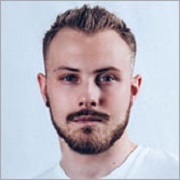 Taylor is an outdoors & sports equipment specialist, sports author, bike traveler, bicycling and skating expert, and smoke-free ride activist. He is also a regular reviewer of outdoor sports gadgets and accessories. About safety gear and biking facts he analyzes and gives his feedback to outdoorxsports. Writes and tests to help him, you, and us.