When choosing a bike lock, there are several factors to consider. In order to ensure the best protection for your bicycle. A good lock will be durable and offer security from thieves. Thieves can easily break open cheap locks with minimal effort.
The most common type of bike lock is a U-lock that encircles each wheel and frame, but chain locks or cables wrap around both wheels and the frame.
What to consider before choosing the best bike lock?
Before buying a bike lock, you should consider the following aspects.
Material
Consider the material of the lock. U-locks are typically made from hardened steel. And cable locks are made from braided metal filaments or Kevlar fibers. And both are difficult to cut through.
Key or combination
Many locks come with keyed entry, while others offer a key or combination to unlock. Keyless locks are usually more expensive, but they provide superior security because there is no key that can be lost or stolen.
Size
The size of the lock matters since you want to ensure it doesn't take up too much space on your bicycle frame while allowing access to important components like the seat and wheels. Smaller U-locks may require you to remove the front wheel of your bicycle, which can be inconvenient depending on where you live.
Price
Decide how much you are willing to pay for a bike lock. Many locks range from $15 to upwards of $100, but if you plan on keeping your bicycle long-term, it makes sense to invest in a more expensive model.
Protection
If you live in an area where bicycle theft is common, you should consider opting for a lock that offers maximum protection against thieves. For example, Yale's new entry-level series of locks provides superior security by using more than 16 pins and tumblers to prevent potential thieves from picking or breaking your lock.
Anti-rust coating
If your bike is outside frequently, an anti-rust coating will protect the metal components of your lock. You may also want to consider applying a protective layer on your bicycle's frame and wheel rims to prevent scratches.
Durability
Look for a lock that is durable and will last for several years. Some locks are covered by lifetime warranties, while others offer full protection against rust and corrosion over time.
Lock types
U-locks, chain locks, or cables can all offer sufficient security. However, if you find yourself frequently removing your front wheel when locking up your bicycle, it might be more convenient to choose a cable or chain lock that does not require this process.
Weight
The weight of your lock should be a consideration, particularly if you use it for extended periods of time. Heavy locks tend to be more durable and less prone to breakage during a potential altercation with a thief.
Ease of locking
The process of locking your bike mustn't be overly complicated since you will have to repeat this process every time you leave your bike for an extended period of time. Choose a lock that is easy to use and offers quick access to your bicycle. This will prevent burglars from striking when you're not around since it will take them longer to steal your bike.
TSA-approved
If you frequently travel by your bike, consider choosing a lock that can be opened with a four-digit combination. TSA locks allow you to leave your key at home while allowing airport security personnel to inspect and open your bicycle if necessary.
Before buying a bike lock, you should carefully consider the material, key, or combination type, size of the lock, price, protection level, and durability. Once these aspects are determined, it is relatively easy to find an affordable option for your needs.
Find out more bike accessories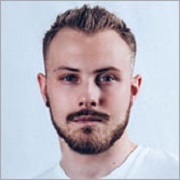 Taylor is an outdoors & sports equipment specialist, sports author, bike traveler, bicycling and skating expert, and smoke-free ride activist. He is also a regular reviewer of outdoor sports gadgets and accessories. About safety gear and biking facts he analyzes and gives his feedback to outdoorxsports. Writes and tests to help him, you, and us.